Home | Sustainability at Devon Prep
Sustainability at Devon Prep
Devon Preparatory School has been making significant strides in sustainability. Devon's long term goals span across research, education, engagement, and campus operations. The main sustainability goals of Devon are outlined in the Comprehensive Sustainability Plan, but include the following:
Environmental sustainability serves as a guiding principle in planning and decision-making.
A campus culture of sustainable and inclusive behavior with widespread environmental consciousness and student involvement.
Excellence in academic-operations partnerships with an emphasis on cross curricular project based learning.
Development of a dense, green, and compact campus that is fully committed to tree care.
Contributions to a just and sustainable future for the Devon campus, throughout Chester county and surrounding area.
Through the creation of the Sustainability Advisory Committee in 2022, school-wide sustainability policy is being written. The committee will write campus wide policies on environmental sustainability, partner with educators to teach interdisciplinary and cross curricular lessons in sustainability, environmental ethics and environmental science, complete a full growing season of native flora, become a certified tree campus, and achieve a long term commitment to waste reduction and lessening the school's carbon emissions.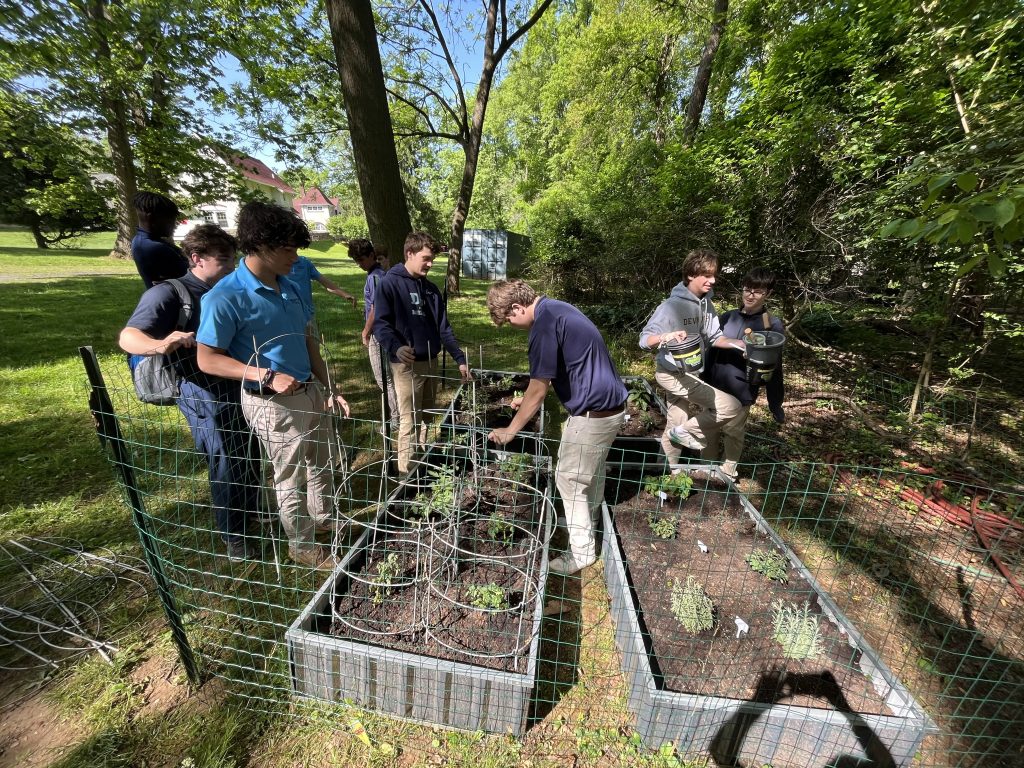 The Environmental Protection Club (EPC)
Aimed at environmental consciousness and promoting sustainability at school, the Environmental Protection Club was formed by student Owen Kowalewski in the winter of 2019. The EPC's main goals are to educate Devon students in environmentally friendly practices, reduce the amount of environmental degradation the school contributes yearly, and build an on campus garden. The club focuses on planning environmental service trips, maintaining the campus raised beds, supporting Devon's recycling program, and supporting overall campus sustainability.
The clubs' accomplishments are credited directly to the support from the administration at Devon. Every idea, proposal, and initiative was supported to fruition. A newly created position, Manager of Sustainability Programs, filled by Mrs. Kimberly Leary, echoes this support as Devon Preparatory makes significant strides towards sustainability. The position coordinates campus programming and activities related to sustainability, including the recycling program, running the Environmental Protection Club, and spearheading the Comprehensive Sustainability Plan in conjunction with the Devon Preparatory Strategic Plan. 
The future for Devon sustainability looks bright, as students, faculty, and staff continue to make great strides in improving Devon Preparatory's role in environmental stewardship and sustainability.
"I saw a need for sustainable action my first year at Devon, when I noticed styrofoam being used in the cafeteria. Styrofoam is an incredible unsustainable product to use, as it never fully breaks down and ends up living in a landfill, emitting greenhouse gases for more than 500 years.That observation, coupled with a few passionate students in my AP Environmental Science class prompted the very first year of the student-led Environmental Protection Club. Our goal was simple, to make sure that the trash bins and recycling bins contents both ended up in the appropriate dumpster. 5 years later, the sustainability goals are much larger and campus-wide, like assembling a committee of faculty and staff to write Devon's very first policies for sustainability, or a group of 5 student Sustainability Fellows who completed a semester long energy audit of the school, working alongside an environmental consultant to learn about ways to minimize Devon Prep's carbon footprint. The growth we've seen in a growing consciousness of environmentalism at the school from the faculty, staff and especially in the students is what sustains this initiative and helps us grow for years to come."
– Mrs. Kim Leary, faculty leader of the Environmental Protection Club and sustainability initiatives on campus.
If you are interested in supporting or being involved in our Sustainability Initiative, please contact Mrs. Kimberly Leary at kleary@devonprep.com