Home | Faculty Feature: Ms. Sara Haroun
Faculty Feature: Ms. Sara Haroun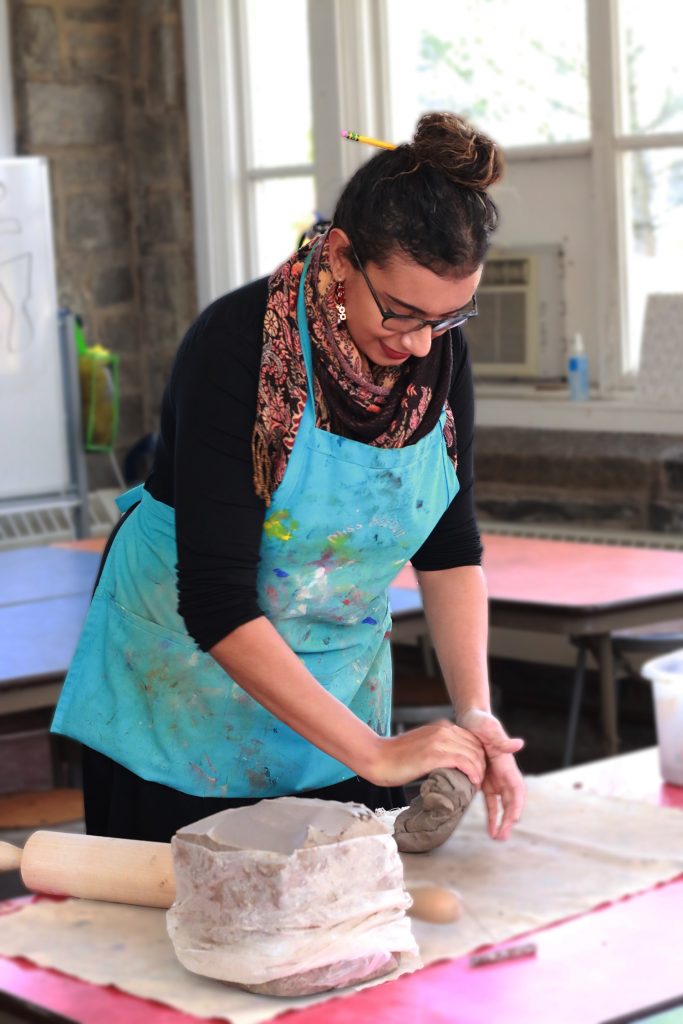 Ms. Sara Haroun began her journey at Devon Prep as a part-time teacher in 2016. When she started, she taught Middle School Art, Ceramics, and a general High School Art class. She has since completely taken the Fine Arts Department at Devon Prep by storm. Fast forward to 2019: Sara is Devon Prep's Fine Arts Department Head, Theater Director, and teaches seven different high school classes. Due to the high interest, the Fine Arts Department hired a full-time middle school art teacher. We observed two art classes, Studio Art II and Makerspace. Studio Art II consists of students working with two-dimensional as well as three-dimensional media. Makerspace is a class that is entirely hands-on, working with materials including cardboard, wood, and clay. After her classes, we spent some time in the beautiful Art Room to get to know Sara better.
---
DD: The Devon Prep Fine Arts Department has grown leaps and bounds over the last few years. What has been the most significant change from your perspective?
SH: The most significant change has been student involvement. I remember the first Art show I put together there was a total of 5 or 6 people who showed up! I've learned a lot along the way and I think getting to know the student and parent body has helped turn things around. Now the Arts events are pretty well attended and the students are always asking about them. They are getting more involved in terms of helping to organize events and express their opinions about how they would like to see things run. Their perspective is super valuable to the success of the department, which is why last year I started the Arts Student Council. Through this selective club, I am able to have student leaders who are super into the Arts to share their thoughts and ideas as well as help them plan student-led events such as open mic night. I always bounce ideas off them too, it's great to have their perspective.
DD: Recently, there has been a notable crossover of Fine Arts and Technology Departments. We have Intro to 3D Prototyping and Design Thinking. How has this transformed your method of teaching and the way the students learn about Fine Arts?
SH: Yes, so over the years my art practice has evolved a lot. When I was an undergrad at the Tyler School of Art, I was super into painting, drawing, and sculpture; the fundamental mediums. I was super against technology, mostly because I was concerned about its effect on our society. Then I took a graduate studio class at Drexel University. and got involved with digital Designers. I realized how different Art and Design actually are. Design is hugely reliant on technology and has structure and rules. Whereas art can really be anything. I realized that technology is not ALL bad, it can be a great creative tool. Technology can be a huge driver for positive change within our society. That's when I took up a Design Research major as my Master's degree. I completed my thesis about teaching digital design and teaching design thinking to adolescents. Doing this has greatly benefited my teaching practice and allowed me to learn how to use all the latest technologies in regards to digital design. This includes but is not limited to 3D printers. My teaching generally always revolves around mediums and topics which I am passionate about, so as my personal practice has evolved so has my teaching.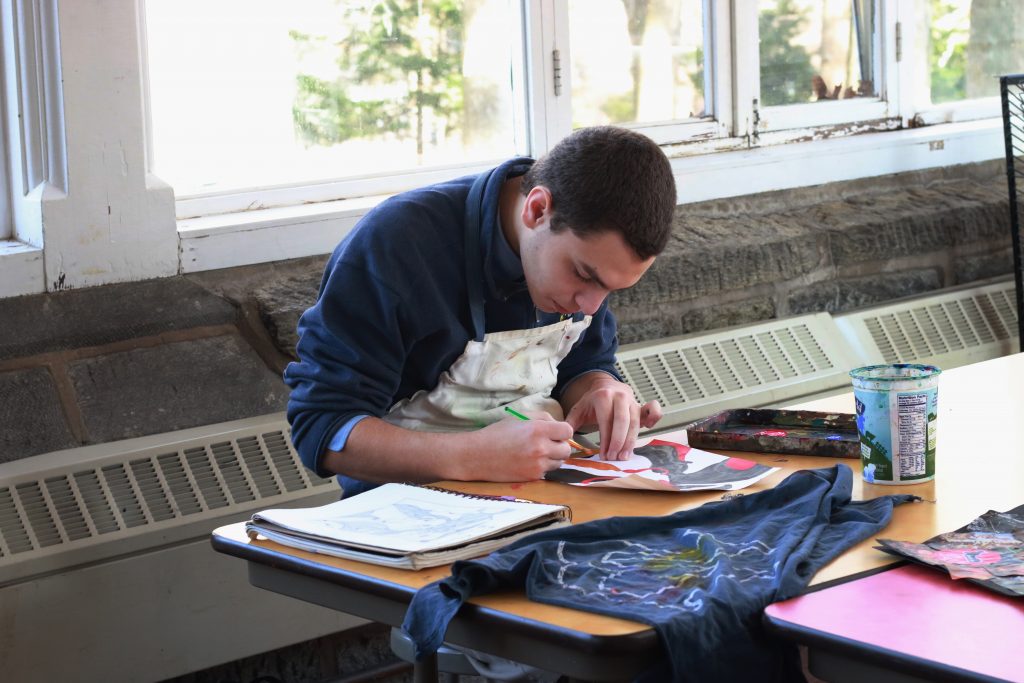 DD: Devon Prep took a leap this year and moved the Fall Drama & the Spring Musical to Rotwitt Theater (at Rosemont College). How were the students performing at a real theater? How do you think it changed the overall experience of the performance?
SH: It was a really great fall drama season. This is my third year running the theater productions and I can honestly say this has been not only the easiest season to oversee but also the most enjoyable, probably because it wasn't stressful. The student's performances were outstanding, the show was comedic and earnestly entertaining. I was really impressed with the student's performances and I think they were really happy to be on a real stage rather than in the gym. I am excited to have the Spring Musical there since this is usually a more comprehensive production with a lot of moving pieces I am hoping to have a similar experience.
DD: We've seen an increase in students pursuing an Arts major as they move onto college. As their teacher, can you tell us about the steps of building a portfolio and what taking Fine Arts courses at Devon can do to prepare them for continuing their education in the Arts field?
SH: Building a portfolio is super important in regards to getting into a good art/design school. It's the first impression that you make on the admissions board, it can literally be the determining factor in your acceptance. Good portfolios usually show a broad range of approaches, an understanding of fundamental drawing techniques, and compositions that are well thought out. This might consist of a couple still life drawings, a few paintings, maybe some graphic design work, and collages. The idea is to show that you have skills and are teachable. Similar to being scouted for a sports team, the admissions team is looking for students to portray an understanding and talent. I think Devon students who are interested in pursuing Art or Design have a great chance to build a portfolio in studio art classes, MakerSpace, Design Thinking, Graphic Design, etc. The projects that are completed in class can serve as great content for their portfolios. If a student knows this is the path he wants to take then I'd recommend taking the projects we do in class very seriously and immersing themselves in understanding the skills and doing their best with projects.
DD: What's next for Fine Arts at Devon Prep?
SH: The department really grows on its own, I don't think I ever objectively plan the next move. I usually intuitively grow in areas as the need comes up. A lot of times the driving forces for change and growth come from the students, other times it's myself wanting something more. I like allowing the department to evolve in the ways it wants to.
---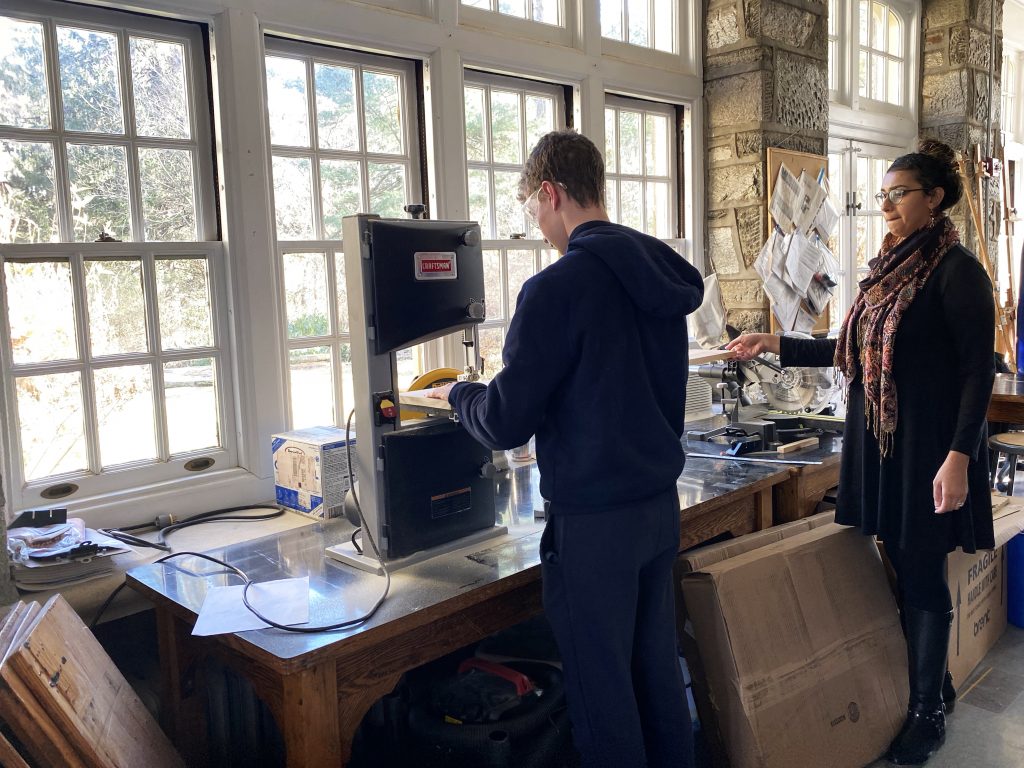 Sara's art journey began much earlier than Devon Prep. She mentioned to me she has always been fond of art, but never knew it could be a career option. Sara said she would spend hours before, during, and after her art classes in high school working on various projects. After attending a pre-college program at Tyler School of Art, she was positive that pursuing an Arts Major was her natural calling. Even to this day, there is a stigma about being an Art Major. Sara is proof that there is no truth behind the stigma, and she wants to be a part of changing perceptions. Now that she has created her own path, she wants to give every student at Devon Prep that same opportunity. She wants them to open up their creative side and see the potential within themselves that without art, they may have never discovered before.