Home | Faculty Feature: Mrs. Gabriela Dokas
Faculty Feature: Mrs. Gabriela Dokas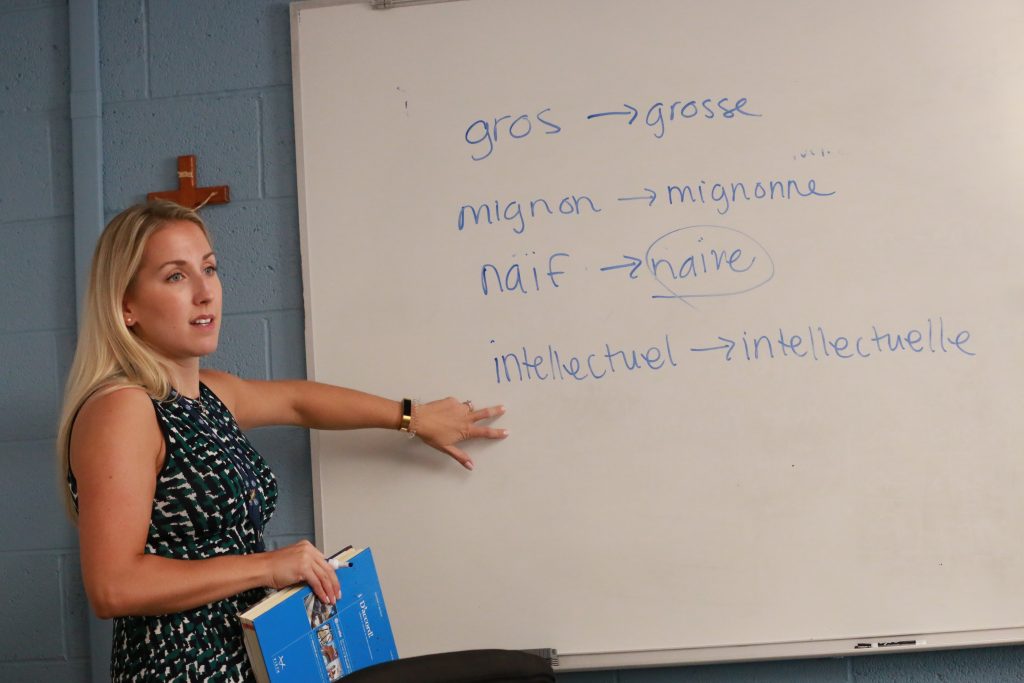 Mrs. Gabriela Dokas has been a part of the Devon Community as our French teacher for three years. However, she's been apart of Devon much longer than that! Whether it was attending a Devon Mixer as a Notre Dame student, or attending Alumni events with her husband Mike ('08) she really understands Devon Prep. With that deep understanding of the Devon world, there was no one better than Gabriela to take on the role of Coordinator of Student Activites. While she still teaches several French courses, she also now organizes field trips, clubs, events, and remains an advisor to many of the students to help them with managing schoolwork and overall life!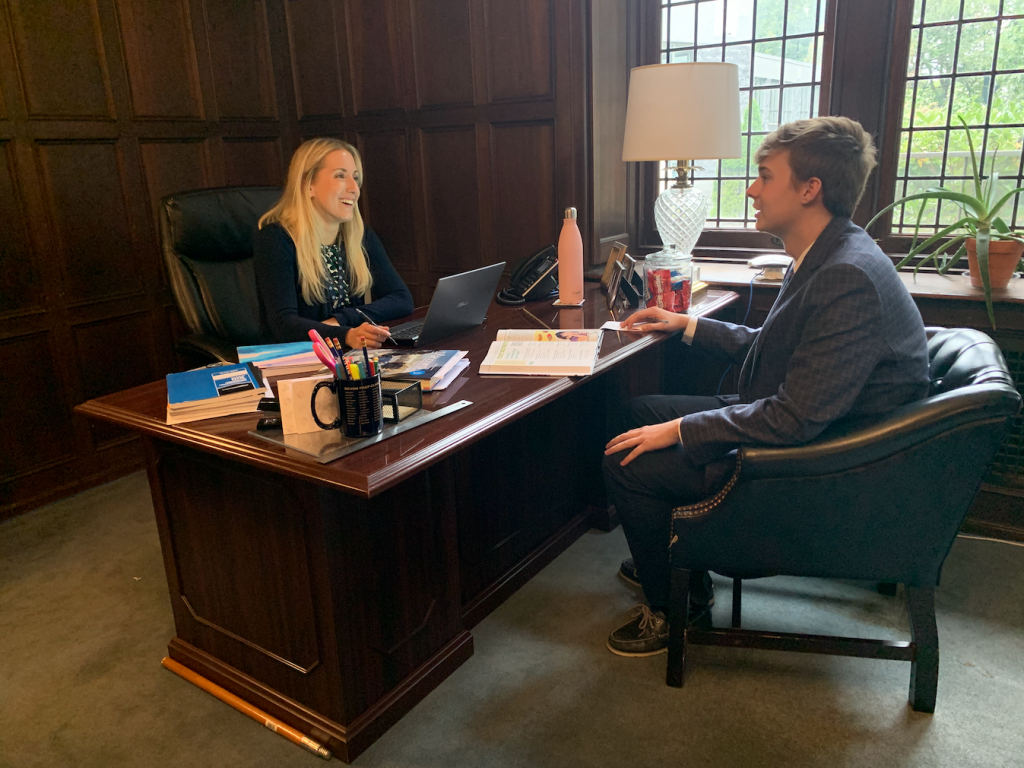 DD: What made you want to work at Devon Prep?
GD: I went to an all-girls' Catholic high school, and I can't overstate how much of an impact it had on me both educationally and personally. As a result, it's important to me to work for a school whose mission focuses on a similar holistic experience, wherein students are encouraged to push their comfort zones in the security of a community rooted in faith. I'm also a big believer in all-boys' or all-girls' education and the confidence and friendships it fosters.

DD: What's your favorite part of working at Devon Prep?
GD: The students. Devon students are well-rounded and have a great sense of humor, but more importantly, they're empathetic and down-to-earth. Teaching them is truly a privilege.

DD: What are you looking forward to most this year?
GD: That's tough to narrow down! I'm really looking forward to working with the Student Council and seeing their goals come to fruition for the entire student body, as well as teaching the AP French seniors for the fourth consecutive year. And I'd be remiss if I didn't mention another season of the DPFFL!

DD: What made you want to become a French teacher, and then the role the Coordinator of Student Activities?
GD: It's ironic: my mom taught French, and even while I was studying it in college, I swore that I would never follow in her footsteps. A few years later, something clicked and I realized that teaching French would fulfill everything I wanted in a career. My new position as the Coordinator of Student Activities came along organically. As I said earlier, the best part of working at Devon is the students, so in my first three years here I always liked supporting their clubs and activities. I'm very grateful that all became a part of my official role this year, and have really enjoyed it so far!

DD: What is your teaching philosophy?
"Children must be taught how to think, not what to think." I'm fortunate to have had some wonderful teachers who taught me just that, and it's now what I hope to model when I teach.

DD: Devon is all about technology. How has the technology switch positively impacted your approach as a teacher?
I'm no tech connoisseur, but I think Devon's encouragement of technology has made me a more comprehensive and creative teacher. It's a great tool for differentiation! For instance, it's intuitive to teach the conditional tense on a whiteboard, but integrating a form of technology requires me to explain the content in a new way that may turn on light bulbs for students who didn't "get it" before.
Fun Facts about Mrs. Dokas:
– She was raised in a bilingual household, but no one in her family is actually French.
– She really enjoys cooking and completed a short culinary school program after graduating from college.
– She loves dogs and has two labradors, Maggie and Hazel.