Home | Admission | Middle School Student Stories
We've missed out on a lot of opportunities to show what Devon Prep is all about these past few months – including our Spring Open House, parent, and student visits. We have highlighted stories about some 6th and 7th graders, covering their choice to come to Devon Prep, their experience inside and outside the classroom over the past year, what it was like shifting to online learning, and more!

Thanks to all of our families who took the time to be interviewed and share their experiences in the Middle School! If you or someone you know is interested, please reach out to the Admission Department, Kevin Mulholland – Director of Admission kmulholland@devonprep.com and Georgie Perullo – Middle School Admission Officer gperullo@devonprep.com, and submit an application at DevonPrep.OpenApply.com today!
---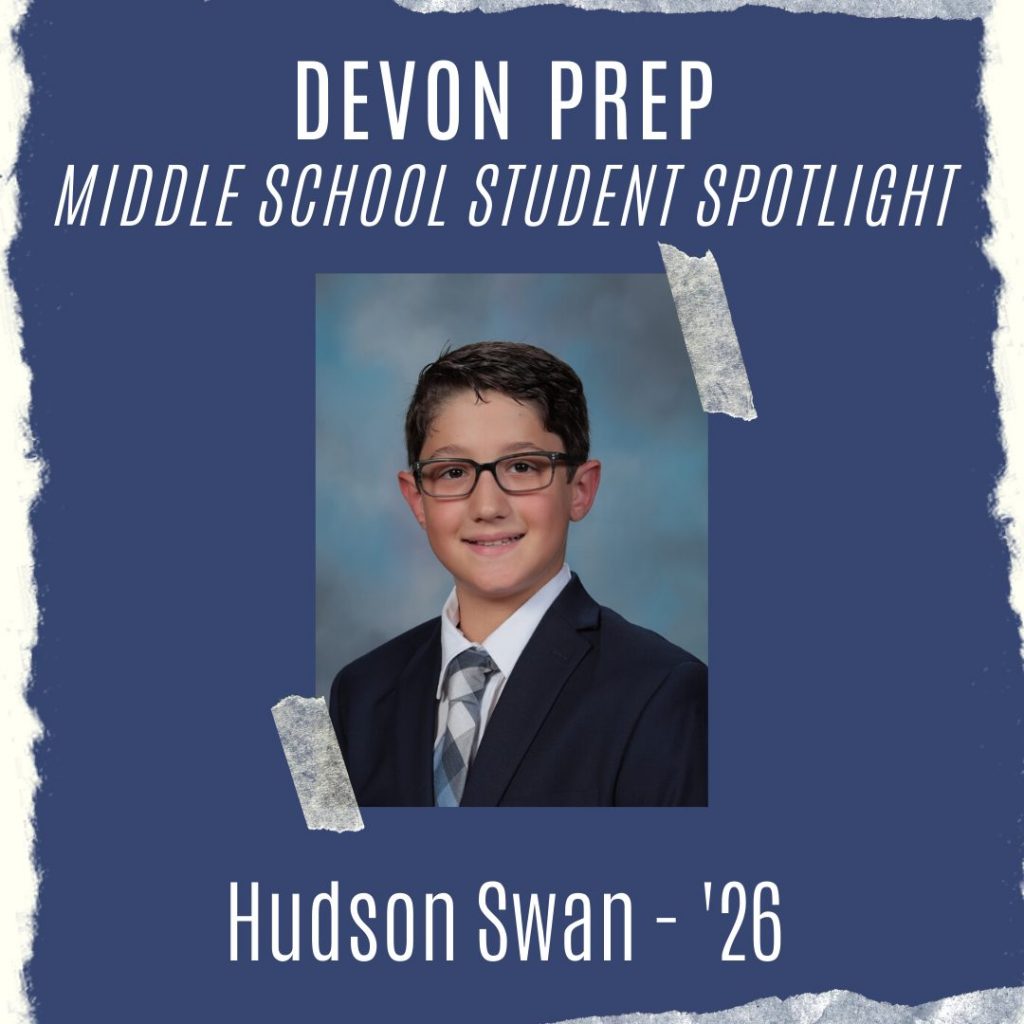 Hudson joined Devon's 6th Grade (Class of 2026) from Pickering Valley Elementary and has immersed himself in every aspect of the school! He joined Speak Up, Tech Heads and Mathletes, played basketball for the 6th Grade team, and has eyes on the baseball team next spring! A stellar math student, it's no surprise that Mr. Harper's math class was his favorite!
The Swan family chose Devon Prep thanks to its "small class sizes, better-behaved students, more caring teachers, and more attention for Hudson." What they ultimately found was that "while other schools may have provided many of the academic needs, Devon has provided mentors…adults to whom he can turn if he is in need." The change of scenery had a positive impact on their son. "Hudson has become more confident, his self-esteem is improving and he is receiving a more rigorous curriculum. He came to me today after receiving a math award and said: "Mom, you were right, I AM smart!"
Any shocks the Swan's found when they made the change to Devon Prep were positive ones! "I was surprised by how kind the environment is, how truly caring and understanding those in positions of authority are, and how at home we feel whenever we are there… I must say that I am also impressed with the curriculum. Is he really doing this math??? WOW!"
When the school went online in March, Hudson settled in quickly "mainly because the school and every teacher continued the structured learning process so seamlessly… while Hudson misses being 'with' his friends, classmates, and teachers, he has had structure and has been able to continue to learn. 'Seeing' his teachers on Zoom meetings and interacting with his class every day has provided him with stability."
"I enjoyed listening in on his classes and hearing the teachers give new lessons and the children ask questions. I enjoyed recording him outside playing basketball for physical education and hearing him pray with Father Nelson. Yes, it was different, and at times lonely… [but] it was also beautiful to get the chance to see exactly why Hudson loves his school so much."
"The weekly Zoom meetings with administration, the frequent communication to keep us in the loop and include us in plans, the transparency in difficulties and also comfort letting us know that 'they've got this'… it's been more than I could have ever expected."
---
Willem Dekker joined Devon Prep's 6th Grade, coming from Valley Forge Middle School, and immediately got involved in as many activities as he could! He joined the yearbook, the ski club, and played on the basketball team in the winter. He's even looking forward to joining the baseball team next year! Inside the classroom, he ranks History with Dr. Imel as his favorite! Outside of school, Willem enjoys playing video games, fishing, and skiing.
Citing Devon Prep's "student/teacher ratio and religious education" the Dekker's made the change and embraced their new surroundings! "The smaller school environment has enabled our son to develop strong relationships with his teachers and build strong friendships. [Willem] wanted to be there all the time! In the mornings, he wanted to arrive early at school to eat breakfast and hang out with his friends. Then in the afternoon, he wanted to stay for Homework Club and then hang out with friends in the tech lab."
While moving online wasn't what anyone wanted, Willem made the most of it! "He loved using technology all day for school, however, it also provided opportunities to become distracted more easily than in a classroom. Fortunately, with the support of his teachers, he received additional help and ended the year being successful."
With only the summer standing between Willem and the next school year, everyone's focus has shifted on getting back in the classroom when Devon Prep starts back up in the fall! "[Willem] really missed being on campus with his friends and teachers. We are so thankful to be part of the Devon Prep community. Our son has thrived in his first year there and we look forward to next year!"
---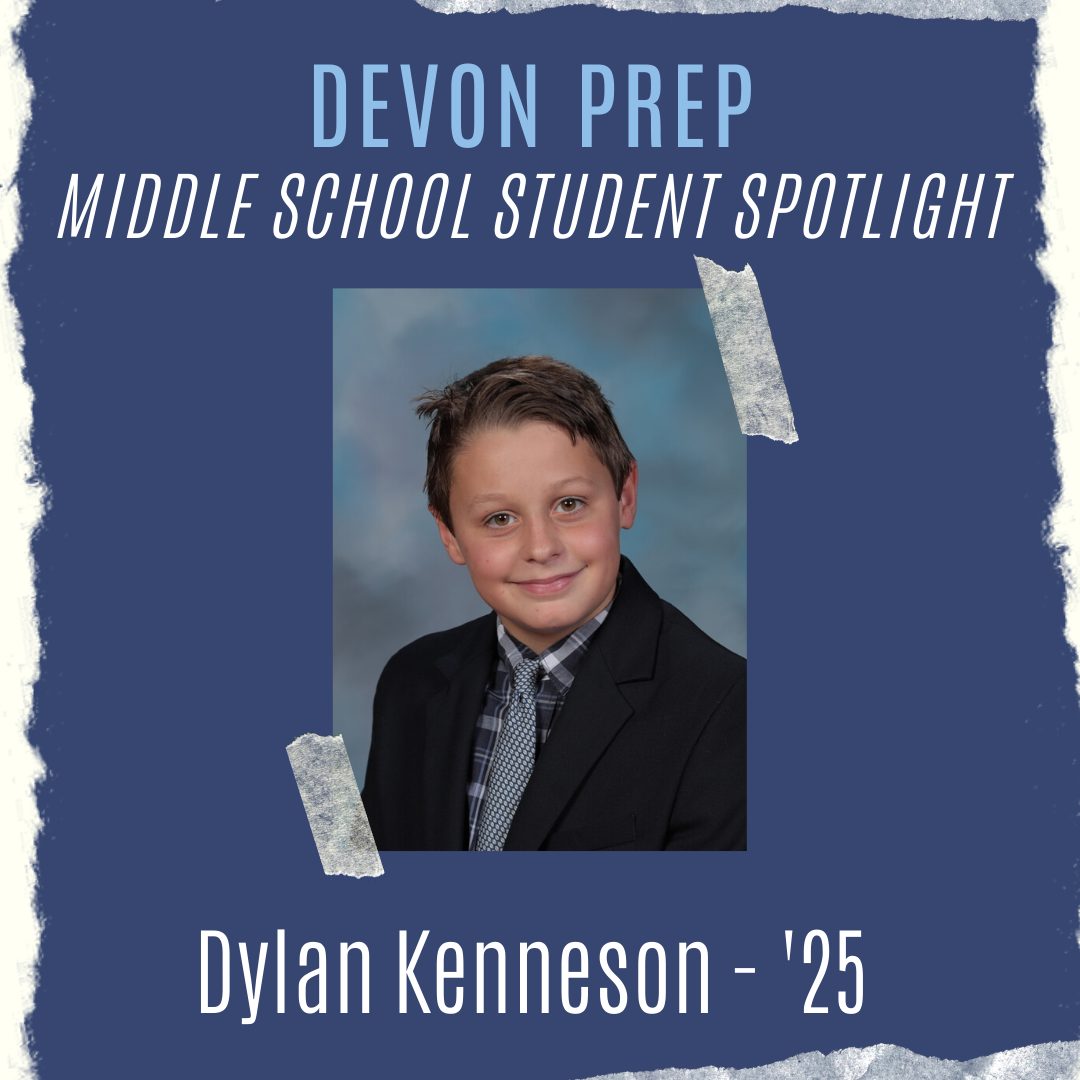 With two older brothers already attending, it's no surprise Dylan followed in the footsteps of Alex and Tyler, but he's carving his own path! A three-sport athlete, he's been involved in the soccer team, basketball team, and lacrosse team. He's a member of the Ski & Snowboard Club, too, and calls Mr. Higgins his favorite teacher. When he's not on the field or court, you can find him on his bike or playing video games with his friends.
Dylan has thrived in Devon's environment, something very evident to his family. "He has learned how to problem solve and work independently… The teachers are very caring and have a way of making classes fun and interesting." Of course, online learning was an adjustment. "Dylan definitely prefers social interaction and does much better in that environment.
Dylan's work ethic helped him cross the finish line of 7th grade, and he's looking forward to getting back into the classroom – and back out on the field! – in his final year in Devon's Middle School!
---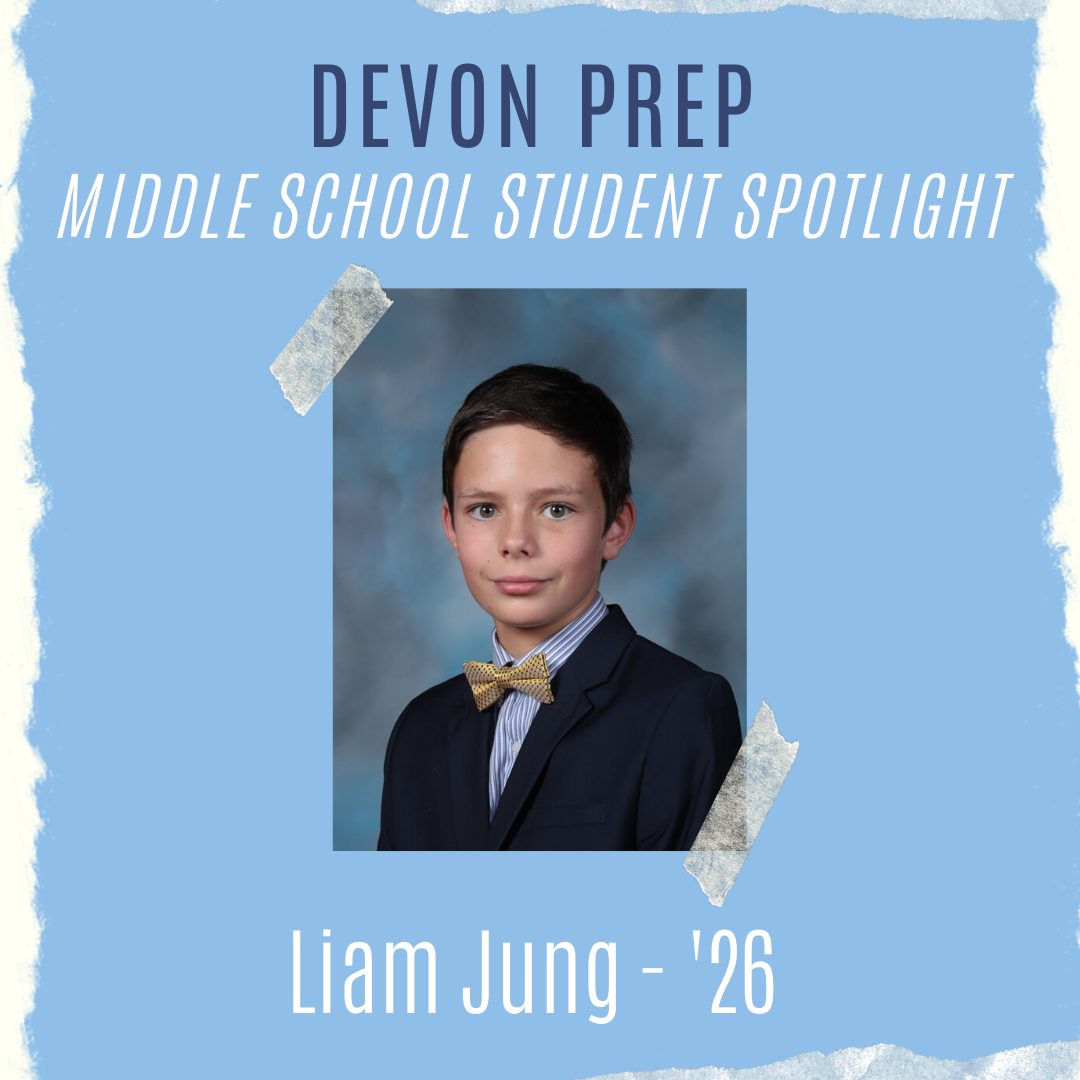 Liam Jung came to our 6th grade from St. Mary Magdalen, joining his older brother, Patrick '24. As a three-sport athlete, Liam participated in soccer, basketball, and looks forward to next spring so he can get back on the baseball diamond! Even with that busy sports schedule, Liam still found time to be a part of the Forensics Club.
Following his brother to Devon Prep doesn't mean being stuck in his shadow. "Liam has benefited because he is valued, and is not seen as a commodity. His uniqueness is noticed and nourished. This has allowed Liam to excel in a non-stressful environment," says his mother.
While online learning wasn't Liam's favorite – "Liam is an extrovert!" – it did underscore how much he's taken to his school, his classmates, and his favorite teachers Dr. Imel, Ms. Nolan, Mr. Irving. "Devon Prep allows Liam to go beyond rote memorization and truly learn. He also enjoyed the freedom to challenge and engage with his teachers."
We're looking forward to having Liam back on campus next year!
---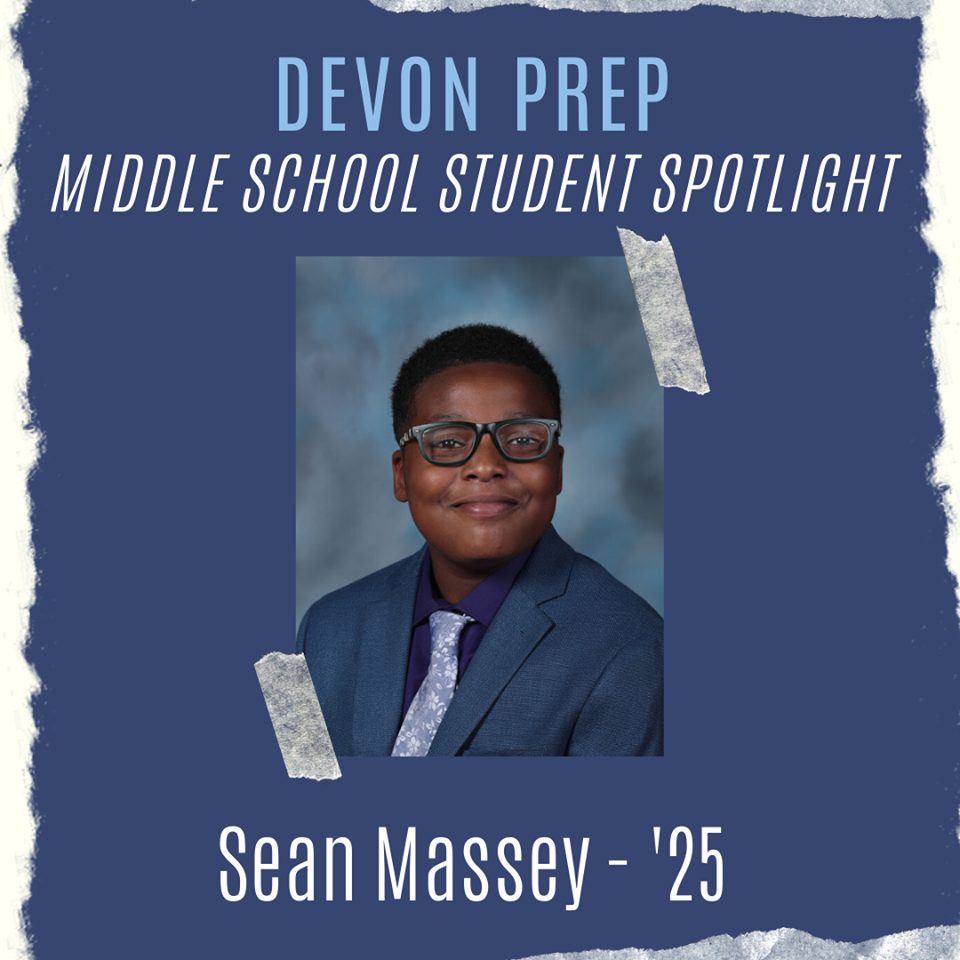 Sean Massey just wrapped up his second year at Devon Prep, coming to us from Woodbine Academy for 6th grade. He's a true renaissance man, involved in both athletics and the extracurricular activities that Devon has to offer, including basketball, ice hockey, lacrosse, Speak Up, and March for Life! His favorite subjects at school are Math, Music, Art, and Phys. Ed.! ⁠
⁠
Even with all Sean's been able to do in his time at Devon, it almost didn't happen. Said his family, "A former parent pushed us to visit Devon and after months of avoiding him, we finally caved. During Sean's Shadow Day, we fell in love with the school. The people, the campus and the curriculum made Devon the best school in the area (in our opinion)."⁠
⁠
Sean hit the ground running at Devon and doesn't show any signs of slowing down. "Sean's transition was pretty much seamless. His grades improved. He has become more confident and made friendships that will last him a lifetime!"⁠
⁠
While we're all looking forward to the summer, Sean feels like a lot of us right now: "He is anticipating returning to school and seeing his friends!" See you at the end of August, Sean!⁠
---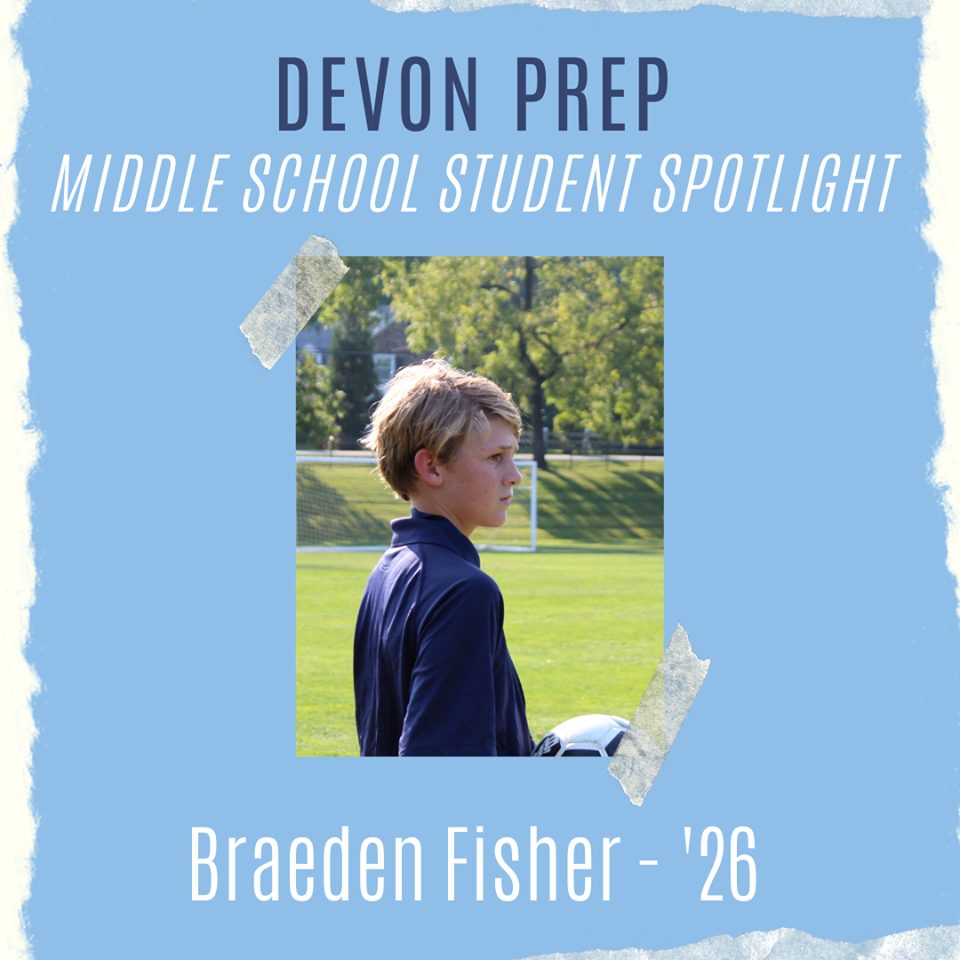 We welcomed Braeden into our 6th grade from Pope John Paul Regional Elementary School, and he took over the place like he'd been here for years! Another three-sport athlete in our Middle School, Braedan played golf, basketball, and looks forward to playing lacrosse next spring! When he's not hoarding Twix from the Admission Office, he's enjoying ELA with Ms. Nolan, or taking part in Speak Up, Mathletes, and the Forensics Club!
He found himself at Devon for a number of reasons. His family wanted a school with a "small, family environment with a focus on academics. [Braeden's] other school was too large." His confidence among his peers and classmates is hard to miss, and his family agrees. "He's had the opportunity to be himself and be accepted… we're surprised just how much he likes his school!"
Online learning has come and gone, which for Braedan and his family was "an adjustment, but overall a good experience… he has adapted but misses the social connection." We'll be happy to have Braedan back in class in the fall with his classmates, and do our best to keep the candy bowl stocked.
---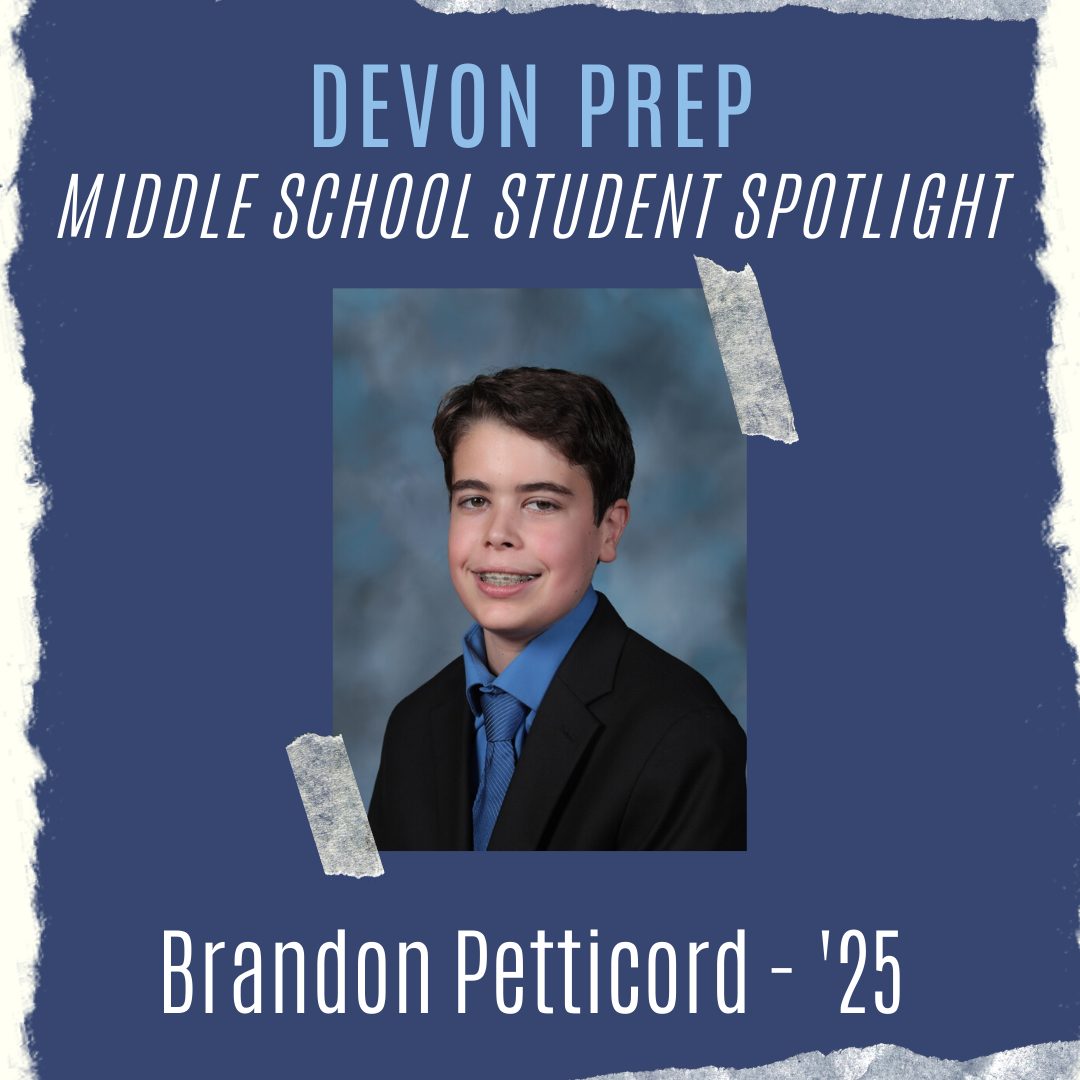 Brandon joined Devon Prep's Class of 2026 from SS. Phillip & James. Brandon has been involved with a handful activities, in and out of the classroom since joining Devon! He played soccer and basketball, and enjoys learning about Social Studies. Bradon and his family chose to come to Devon Prep because they needed a more academically challenging environment. He enjoys it here because it gives him time to learn and grow as a young man, but also pushes him to succeed academically!
Brandon's family mentioned they were "surprised with how quickly he adapted". After transitioning to online learning in March, they said it was "smooth" and "the structure of having classes like a traditional day was so helpful keeping him connected and on track".
We hope he has a great summer, and we're looking forward to having Brandon back on campus at Devon Prep in the Fall!
---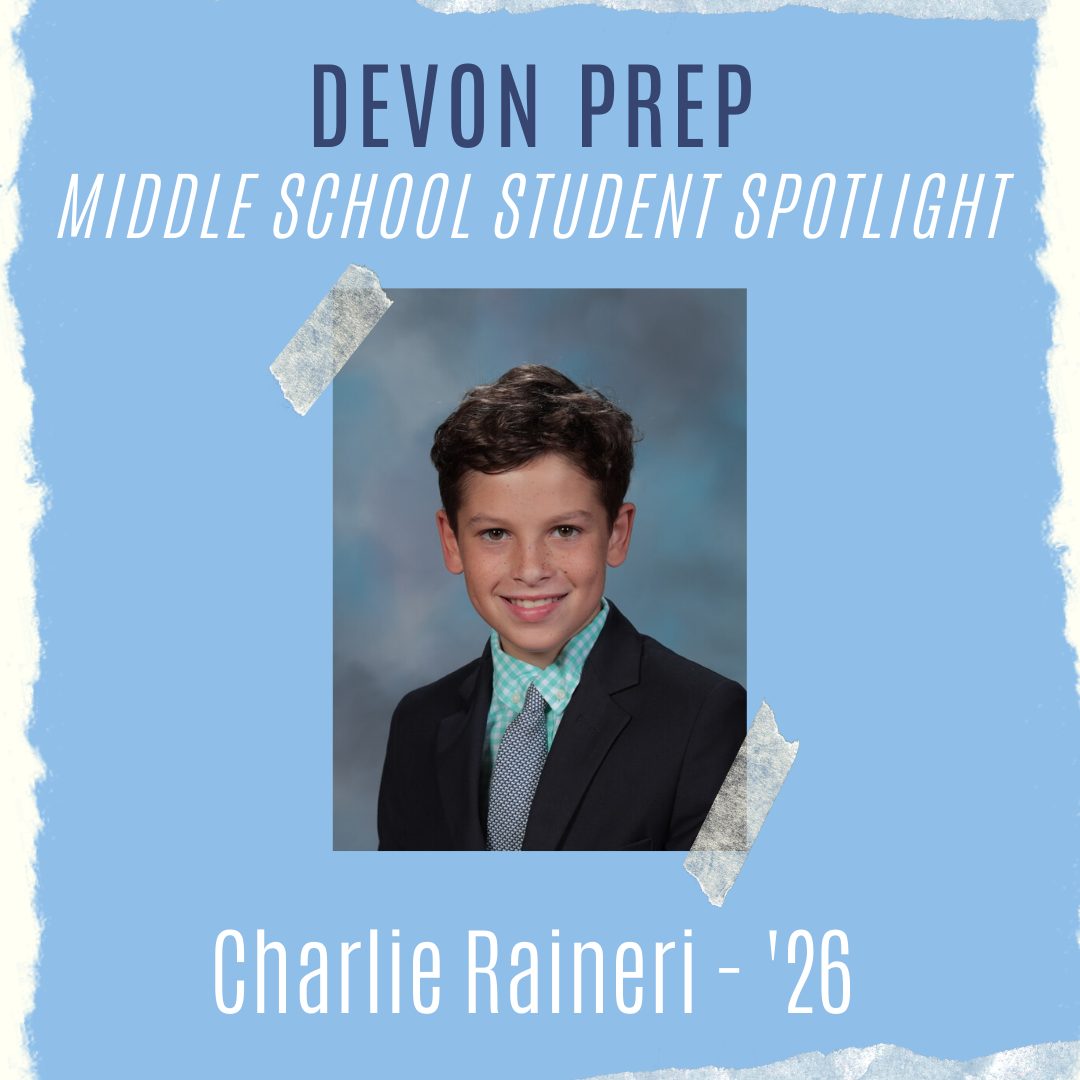 Charlie came to Devon Prep from Regina Angelorum Academy because "it seemed like a good fit for Charlie academically and socially," says his family. And we can't agree more! He joined the golf team, basketball team, and would have played baseball too (and hopefully gets his chance next spring!), and enjoyed his 6th-grade science class with Miss Nolan the best.
Joining a new school along with his older brother Jack '23, Charlie took advantage of his new surroundings. "There are more activities and more classmates. Charlie has grown in confidence and made new friends."
Like most of us, he's glad online learning is in the rearview mirror. "Online learning had its challenges for Charlie but he seemed to overcome them with help from his teachers. [Middle School Counselor] Mrs. Sorrentino took the time to help Charlie organize his missing assignments and continuously checked in on him."
The Ranieri family summed things up best: "Devon Prep has been a wonderful experience for Charlie and we look forward to watching him grow during his future years attending Devon Prep!" We're happy you feel that way, and we're already counting down the days until we start back up in the fall!
---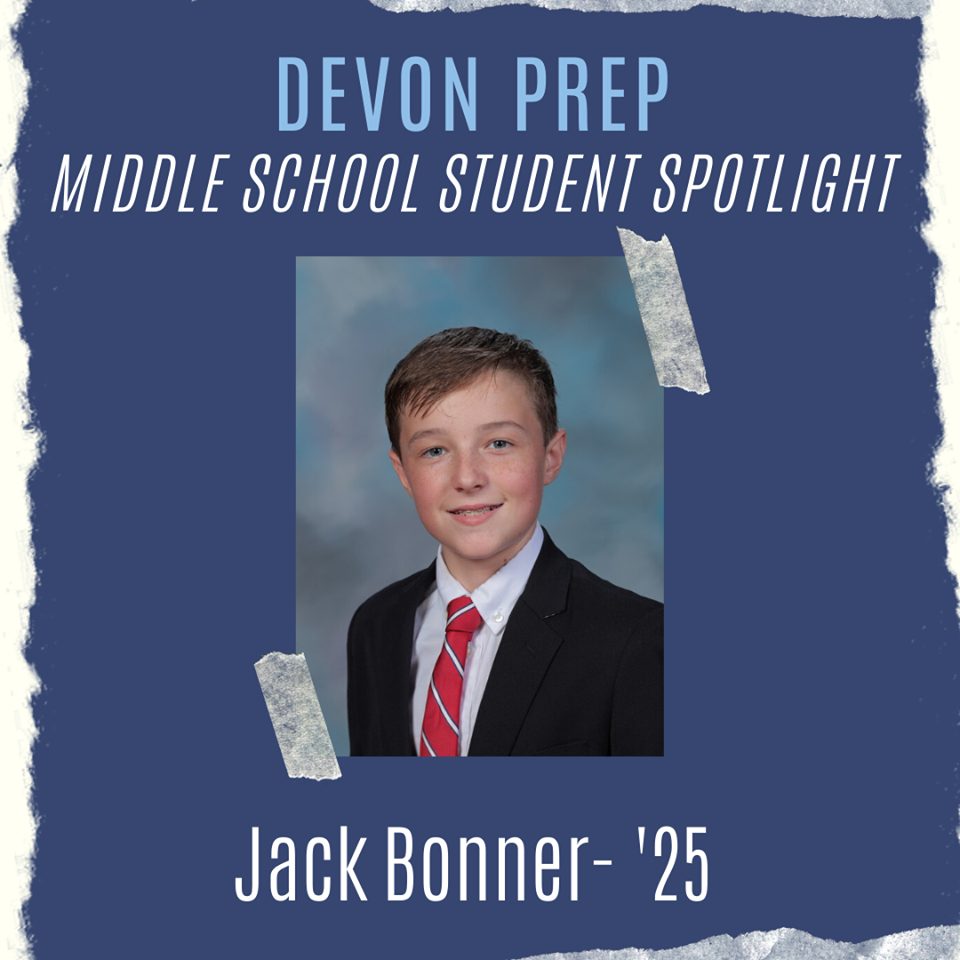 "He has gained confidence and I have never seen him happier than he has been since coming to Devon." That's how Jack Bonner's family describes him after concluding his second year at Devon Prep, and we're happy he's a part of our community! Jack's a three-sport athlete – golf, basketball, and track – and especially enjoys class with Mr. Sauer and Phys. Ed. with Mr. Carter!
Jack's made a big impression on his classmates and friends, and the school has made one on the Bonner family! "Devon celebrates each boy as a unique individual. The teacher's are fantastic and truly care about the boys as people, not just students in their class. The foundation of these relationships are built upon trust and respect, which is evident through their interactions. The flexibility of the administration to switch gears when in the best interest of the boys is truly remarkable. They give the boys certain freedoms and responsibilities that allow them to grow and rise to the expectations."
The shift to online learning did little to impact Jack's academic experience, and he adjusted to his "new normal" as well as he could. "Our son had to take on much more responsibility over the last three months, and he did it without any hiccups! I am so proud of how he has matured and owe so much of that to how Devon handled this situation."
Of course, we'd much rather be teaching in-person, something we're all looking forward to this fall! "Jack misses seeing his friends and teachers in person. There is often magic in those informal interactions that occur in the school building. Overall, he is still happy, still engaged, and still can't wait until he can be back in the building."
"We truly believe that Devon has changed our son's life and future trajectory. He tells everyone that asks how much he loves his school. Devon has cultivated a unique and special environment for these boys to learn, and to grow in faith."
We're proud of what Jack's been able to do in his years at Devon, and excited for what he'll get up to in the years ahead! See you back here in a few months!
---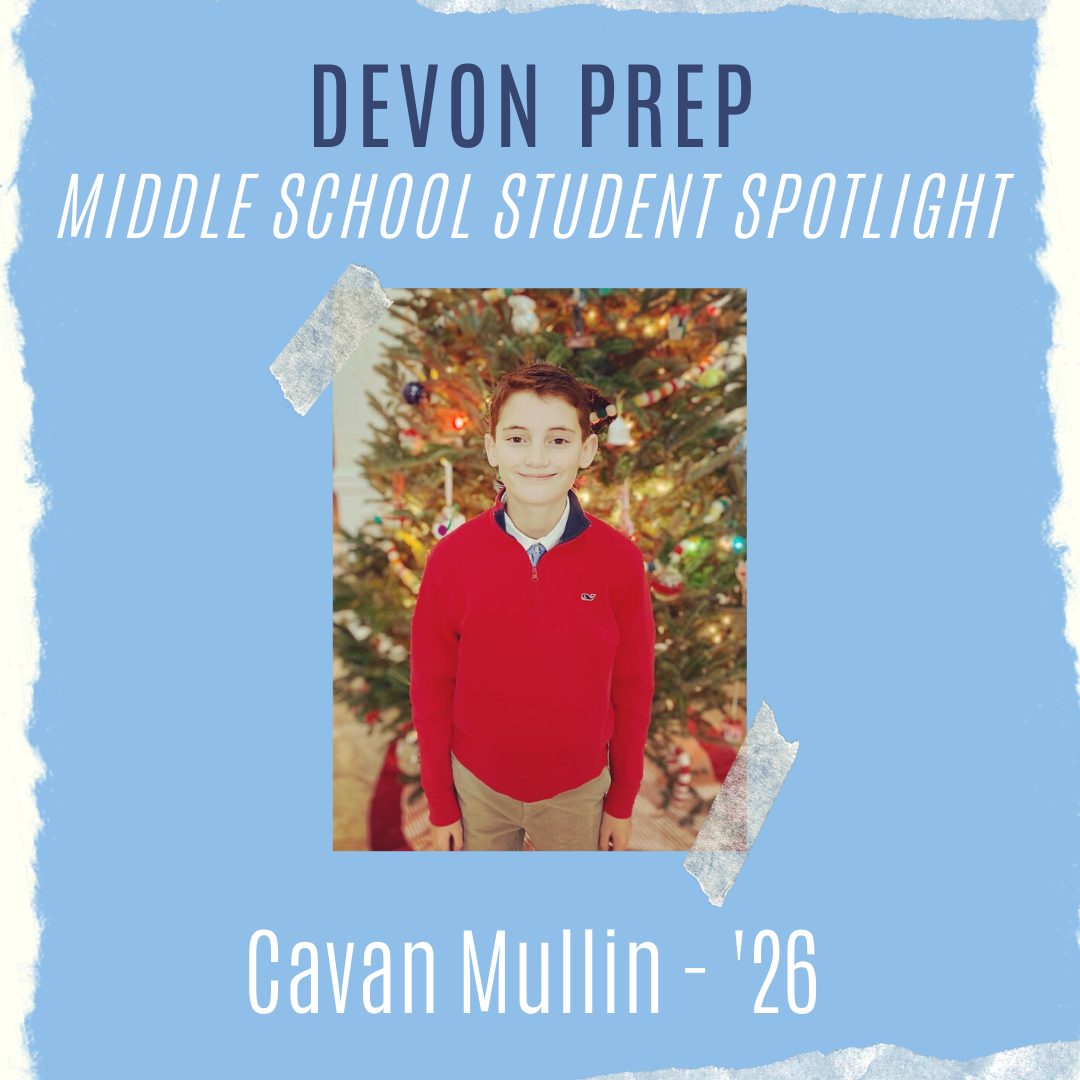 Devon "felt like home"!

Cavan joined his brother, Liam (who entered Devon's 9th grade this year!) and found what he was hoping for in "more of a challenging academic environment and inclusion of all of the boys", and a place that "felt like home" right off the bat.
While Devon Prep was an uptick in work, Cavan felt "more motivated, more interested in school work, and doing well in his classes." Cavan also joined the basketball team, the rock climbing club, and student council, and has found success outside and inside the classroom (especially in favorite-subject Math with Mr. Harper!).
While his busy year came to an end in-person earlier than anyone would have liked, Cavan jumped into online learning, with all its pros and cons. He's "missing friends, but the structure of the online classes was a huge help in providing structure for the seemingly endless days." The last three months have proven "in-person class instruction and contact with classmates is so very vital to a well-rounded education."
Cavan and his family "are sad our first year at Devon came to an end under these circumstances but looking forward (hopefully) to seeing familiar faces soon!"
---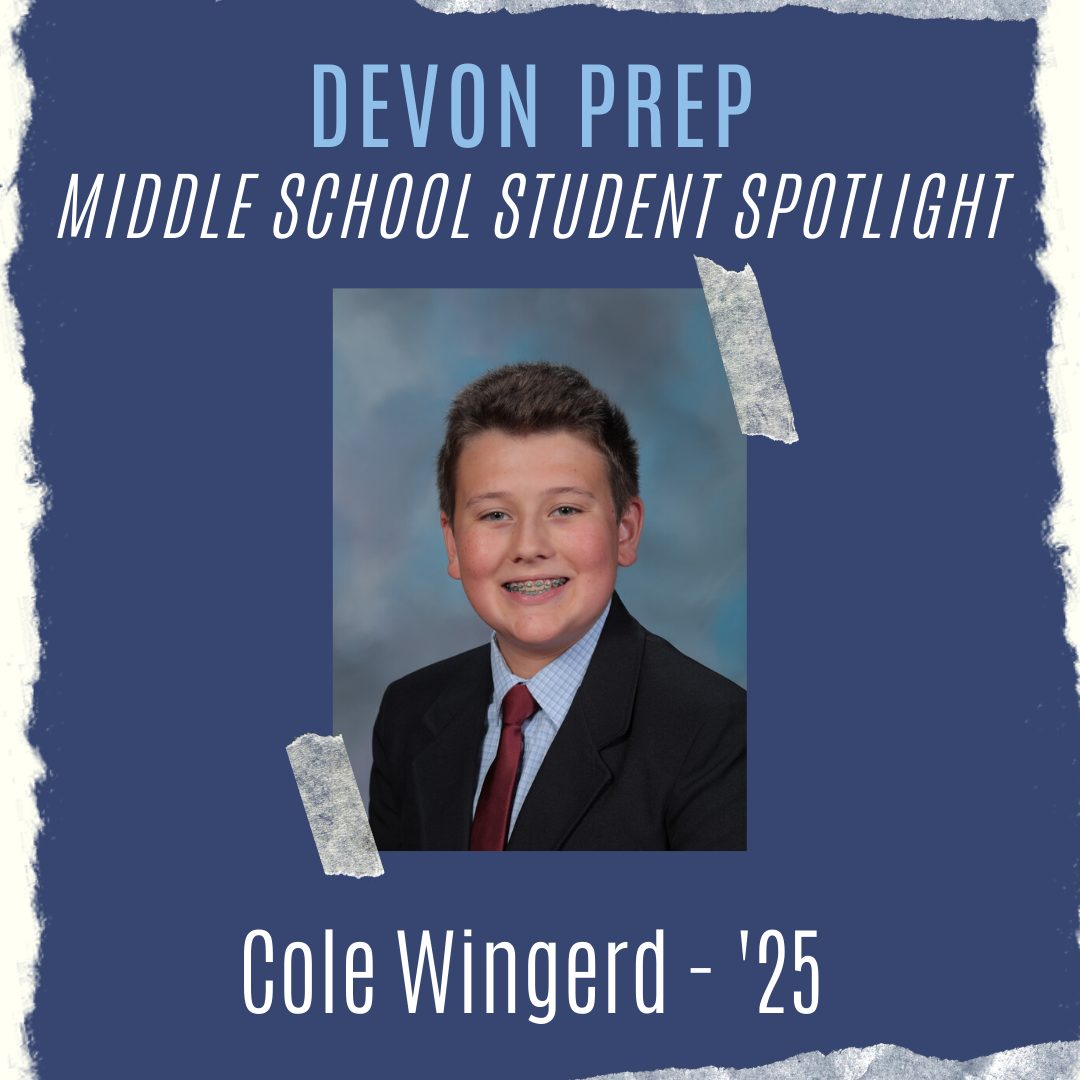 Proving the importance of visiting a school before committing, it only took one day for Cole Wingerd to want to follow his older brother to Devon Prep! "We were looking for his brother Nate, for high school. We were so impressed with the school that we decided to send Cole for a shadow day too. He got in the car at the end of the day and told us he was going to Devon the following year."
He took to things quickly – jumping into the tennis team (even with its COVID-abbreviated season) and particularly liked Math with Mr. Harper! His family admits that Devon fits Cole perfectly. "The academic offering is much stronger & more diverse. We love the small classroom environment for him. His grade seems to have a really nice camaraderie and he's thrived both socially and academically at Devon. We're very happy!"
Even the class trip to New York City had an impact on Cole. "I swear he came home seeming older and more mature. He had the best time bonding with the guys and seeing all the sights. I think the surprise was the understanding that beyond a great education, my kids would be learning to be strong and independent thanks to the experiences they would have at Devon."
While his 7th-grade year ended earlier than normal thanks to the quarantine that moved everything online, Cole made the most of it, staying in contact with his friends and classmates. "He's transitioned well. He's a homebody and loves technology. Props really need to be given to the teachers, who took an entirely new situation to all and managed things spectacularly. Also, as much as we all worry about the kids and gaming, gaming has had a positive upside during this quarantine – he's on the phone or the Xbox almost every day chatting and laughing with Devon friends. If they can't see each other in person, we feel this is the next best thing and I'm glad we have the technology to allow them to still stay in touch.
We're looking forward to Cole getting back out on the tennis court for Devon Prep next year! Enjoy the rest of your summer, Cole!
---
Rock Climber. Squash Player. Swimmer. Mathlete. 6th Grader. His name? Markus Mehler.
He came to Devon Prep's 6th grade for two reasons, per his family: "Smaller classes, and because [his older brother] Maxi '24 is already here!" Those small class sizes are something we really focus on as a school, and why Markus has been able to get to know his teachers and fellow students so well!
He's thrilled online learning is a thing of the past – it went well, but he'd rather be in the classroom with his friends, favorite teacher Mr. Harper, and the rest of the school! We're happy to have Markus back in the fall, in-person! See you soon!
---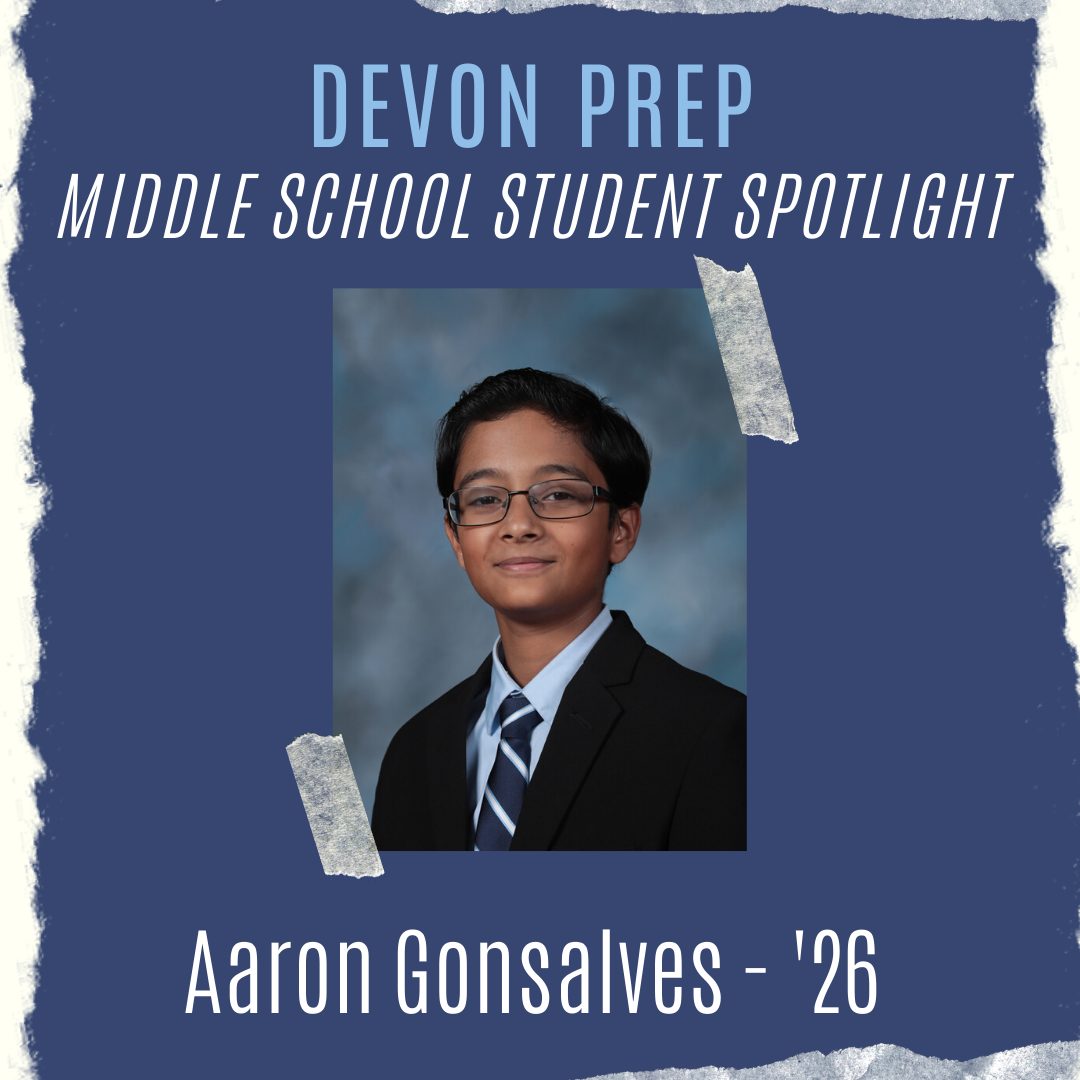 Aaron Gonsalves heard about Devon from his cousin, but quickly made the school his own! An avid gymnast and basketball player, Aaron somehow found time to join Mathletes, the band, and Homework Club!
Aaron's family has been happy with how much the school can offer, including "higher academic challenges, excellent course content, extracurricular activities (Athletics, Music Drama, Clubs), and community service [opportunities]." They've been particularly happy with their 6th-grader's development in "maturity and self-confidence… he had no issues with the transition [to online learning]."
It'll be nice when we're all back in-person at Devon Prep at the end of next month, especially in Aaron's favorite – History with Dr. Imel – but until then we hope Aaron has a great rest of his summer!
---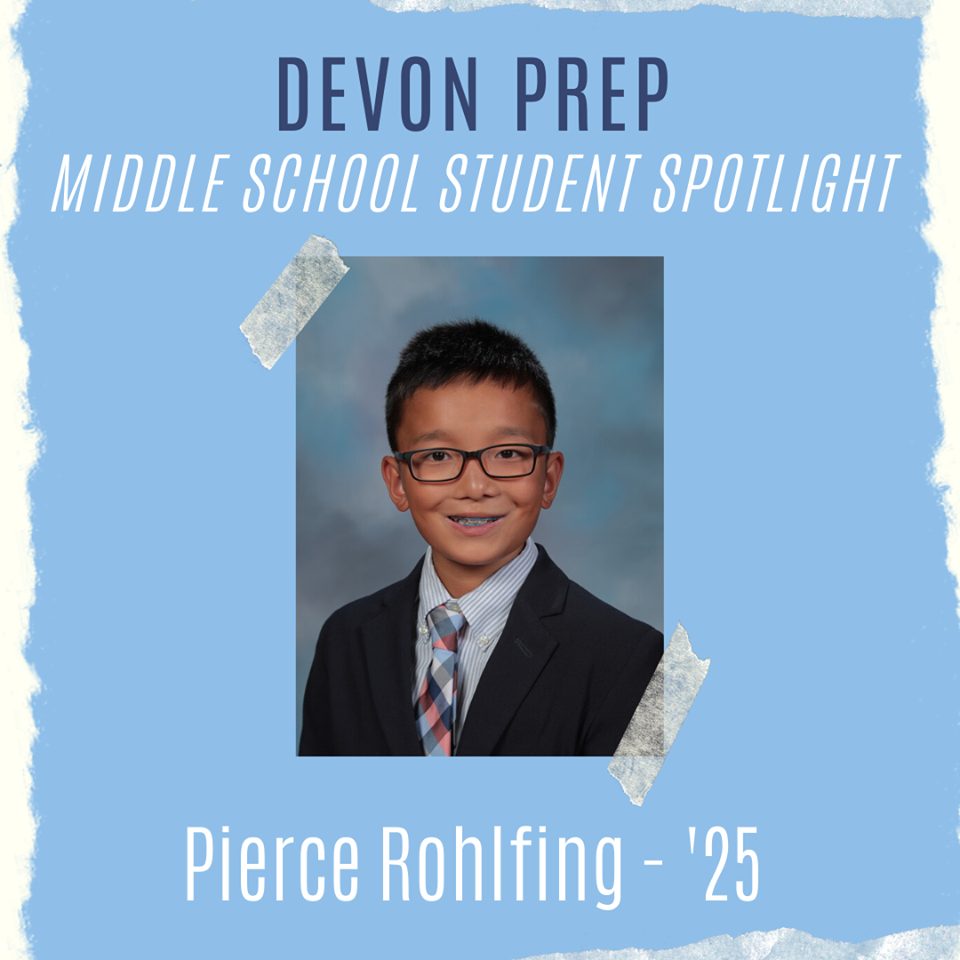 What hasn't Pierce Rohlfing been up to during his time at Devon Prep? Soccer, basketball, tennis, track, french club, Speak-up, and even helping the Admission Department at the Fall Open House (always appreciated!). It's safe to say that Pierce's upcoming 8th-grade year will be jam-packed as well.
Pierce has been able to do so much in his time at Devon, and his family appreciates what a good fit the school has been for him! "Pierce has become independent in doing the school work as well as with organization & being prepared. He has become much more involved in activities with school… We have seen him become more confident as an individual. Overall, his grades are higher than his previous school."
His family was also complimentary of the freedom and flexibility Devon has allowed Pierce. "Devon provides a broader range of extracurricular activities, athletics, and many service activities. Devon's ability to create and manage multiple basketball teams across the middle school provided opportunities for everyone to get significant playing time and allowed us to not have to play at the township. We appreciate the flexibility to play 2 sports within a season as well as the extra off-season training. Devon provides better visibility to grades and assignments and access to communicating with staff and teachers. As a working parent, I appreciate the campus being open late while offering activities after school such as the homework club, shooting baskets in the gym, or the game room."
Of course, online learning brought its own set of challenges, and as an active member of his grade, being away from his friends and classmates wasn't ideal. "Pierce did well with online schooling. There were points that I had to adjust his focus and get involved to ensure assignments were getting done. Mostly it was recognizing that he is not an adult who is working from home… The struggle of not being able to socialize in person with classmates on a regular basis in a school environment started to creep in as time went on."
While we are planning on reopening the school in-person this fall, the Rohlfing family's kind words are appreciated regarding our online learning setup. "Devon maintained the same level of commitment to their goals and values as a school and community and continued with the same level of educational excellence. I like that if something was not working how adjustments were made to keep the boys engaged."
We're looking forward to getting back in the classroom – 5 days a week – and we're sure Pierce is looking forward to that, too!